Sunday Evening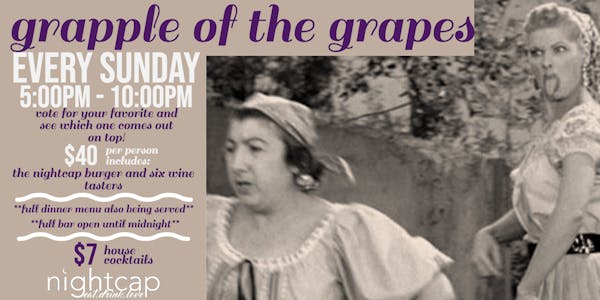 You asked and we listened!
A couple of years ago, we decided that we were going to host a weekly event to showcase our delicious burger. We called it, 'Burgers and Burgundy,' and it was a huge success! Starting Sunday, September 8th, we are bringing it back and also adding a touch more. We will be serving our full dinner menu, as well as feature cocktails from our happy hour menu.
The new and improved, 'Grapple of the Grapes' will spotlight six wine tasters from our current wine list, with two wines going to battle at a time. Grape vs. Grape scorecards will be given out to keep track of your favorite wines. This is a fun way to learn about different wines, what your tastes are and in a comfortable setting.
$40 get you our delicious 100% ranger cattle wagyu beef smash burger and six wine tasters. Bring your friends and make a night of it!
This article from Health.com is all about drinking wine can be good for you. Of course as always, moderation is key.
Hope to see you on a Sunday evening soon!
xooxoxox,
the nightcap family